Last updated on October 31st, 2023 at 09:32 am
Seen By Amy contains affiliate links including those as an Amazon Affiliate. If you make a purchase through these links, I will earn a commission at no extra cost to you. Thanks for your support!
Southampton is one of the largest hamlets in the Hamptons. It's known for top-notch shopping, pristine beaches, extravagant homes, and loud nightlife.
You're likely to spot celebrities, authors, politicians, and athletes wining and dining throughout this all but normal beach town.
I spent a year living in the Hamptons and regularly return to visit family. Southampton is one of our favorite towns to visit because there's always so much to do.
Read on for the best things to do in Southampton, New York.
Note: There is the Town of Southampton, which encompasses a number of hamlets throughout the Hamptons, and the Village of Southampton. This article covers things to do in and around the Village of Southampton.
The Best Things To Do In Southampton, NY
Parrish Art Museum
The Parrish Art Museum sits just off Montauk Highway in what can only be described as an architectural marvel completely atypical of the Hamptons style.
The museum focuses primarily on local artists based on the South and North Forks of Long Island.
In addition to its permanent collection, the Parrish Art Museum hosts a variety of temporary exhibitions throughout the year, highlighting the work established and emerging artists.
Plus, educational programs such as lectures, artist talks, workshops, and family-friendly activities.
The museum offers a picturesque and private backdrop for a truly standalone art experience.
This is a must for art-lovers in Southampton.
Beach Day
Above all, the Hamptons have their beaches to thank for the area's massive popularity.
White sand, plenty of room to spread out, and picturesque waves, the offering of public beaches here are unsurpassed anywhere in the United States.
As an added bonus, there's a reasonable chance you'll even spot dolphins or humpback and fin whales.
These majestic animals have recently returned to the area in numbers unseen in decades.
Coopers Beach
The most popular beach in Southampton is definitely Coopers Beach.
In addition to pristine white sand, you'll find basic amenities such as a snack bar, restrooms and showers, as well as umbrellas and chairs for rent.
Coopers Beach is a Village of Southampton Beach, so it's good with a Village of Southampton Beach Parking Permit or you can buy a daily parking pass (yes, that means non-residents can park here).
This is the only Village of Southampton Beach which offers day parking passes.
Beach permits are for parking only, the beach itself is free to all visitors. If you ride your bike, walk, or get a ride, there's no cost!
Keep in mind, Coopers Beach is Atlantic-facing so waves here can get rough. I
f you're looking for more of a family-friendly beach, check out the bayside beaches. These offer smaller waves and warmer water, but typically have rocky shorelines. Popular bayside options include North Sea Beach or Foster Memorial Beach (Long Beach).
Water Sports
Speaking of bayside beach day, if you're an outdoor-lover you'll enjoy the ample water sports available here.
Windsurfing, stand up paddle boarding, and kayaking are all popular pastimes on the relatively calm waters of Mecox Bay or Shinnecock Bay.
Various rentals are available from: Hampton WaterSports, East End Explorer, Khanh Sports, or Tuktu Paddle Tours.
Walk (& Shop) Main Street
The Village of Southampton has one of the best downtown strips in all of the Hamptons.
Here you'll find chic boutiques, historic buildings, and popular restaurants with outdoor seating on brick-lined sidewalks.
The wide selection of shops makes this one of the best spots in the Hamptons to spend an afternoon shopping.
From antique shops to upscale boutiques, and home decor to sporting goods, there's so much to uncover in Southampton's downtown area.
Tip: Be sure to stop by Sip 'n Soda, a classic diner which has sat on Hampton Road, just off Main Street, since 1958. If you're looking for ice cream in Southampton, this is the place to go.
Hildreth's Home Goods
If browsing the storefronts on Southampton's Main Street, you must pop into Hildreth's Home Goods.
This 180+ year old department store, famous for their fun window displays, is deceivingly large. What looks like a regular shop from the street, you'll find once inside, is anything but.
This massive store has anything you could possibly need for your home.
Even if you're not in the market for home goods, the store's wide selection is very fun for browsing.
Hank's Farmstand & Hank's Pumpkintown
Hank's Farmstand is famous in the Hamptons as a haven for family fun from summer through the holidays.
If visiting in the summer months, enjoy berry picking, cold cider, locally made jams, or pick up fruits and veggies grown right on the farm.
Hanks Farmstand is open June through mid-September.
Fall visitors, you'll love the pumpkin patch, u-pick apple orchard, hot ciders and all things pumpkin flavored.
Hank's Pumpkintown runs from about mid-September through Halloween.
The much-loved farm stand opens again for the holidays, when you can buy Christmas trees, cozy holiday decor, and unique gifts.
No matter the time of year, there's tons of kid-friendly activities on site and hard cider for mom and dad.
Southampton History Museum
Hamptons residents have a very strong connection to the area's past, it's one of the things that surprised me most about the Hamptons.
To understand the area's history, a visit to Southampton History Museum is a must.
A dozen 19th century buildings were relocated and placed on this plot of land just behind Main Street. Together they create a replica village depicting everyday life in Southampton some 200 years ago.
Take a stroll through the interactive museum and marvel at the detail in each small shop. The shops represent what were once real working businesses in town.
The museum is open year-round with seasonal hours.
However, if you wish to see everything in full swing it's best to visit weekends during peak season.
Museums In & Near Southampton
There are a handful of great museums worth exploring during your trip to Southampton, New York.
Most are small and can easily be explored in an hour or two. This is an especially great activity for a rainy day in Southampton.
A few of the most popular museums near the Village of Southampton are:
Southampton Cultural Center
Water Mill Museum
Southampton African American Museum
South Fork Natural History Museum
Halsey House & Garden
Sag Harbor Whaling & Historical Museum
Southampton Summer Concerts In The Park
If visiting on a Wednesday during July or August, enjoy free concerts from local artists. This is one of the most popular things to do in Southampton each summer.
The live music takes place at either Agawam Park, located right off Main Street, or Coopers Beach which is just a short drive from downtown.
Bring a blanket or chairs, a picnic with spirits (in plastic cups!) plus your closest friends to enjoy a night of free live music.
This is a kid-friendly event, let the little ones run loose at the playground in Agawam Park or play in the sand at Coopers Beach.
Concerts run from about 6:30 pm to 8:30 pm.
Check out the full concert line up here. In addition to the usual Wednesday concerts, they have occasional special weekend shows.
Live Music
There are tons of free (or very low cost) live music events throughout the Hamptons during the summer.
If the Wednesday night concerts don't work for you, check out these popular options:
Wölffer Wine Stand (Sagaponack)
Southampton Publick House (Southampton)
Main Beach (East Hampton)
Bridge Gardens (Bridgehampton)
Southampton Arts Center (Southampton)
LongHouse Reserve (East Hampton)
… among many others!
Southampton Arts Center
The Southampton Arts Center is an art gallery, yes, but also so much more.
They're a focal point in community engagement, offering countless programs and events throughout the year.
The Southampton Arts Center's mission is to connect community through the arts and their actions clearly reflect that.
Keep an eye on their event calendar for upcoming programs, live performances, workshops, and lots of fun.
Or just pop into the gallery for a glimpse at what local artists have been creating.
Drive Meadow Lane
Meadow Lane follows a narrow strip of land with the Atlantic Ocean to the south and marshland to the north.
While it seems impossible to build on this sandy peninsula, you can bet many have.
Those who own homes here have bank accounts in the 10 digits — that's billionaires, for those of you who don't feel like counting.
The colossal mansions are part of what makes the drive so interesting. These homes are so large and the land so narrow, it's impossible for all homes to hide behind hedges, as many Hamptons mansions do.
A majority of the undeveloped portions of this peninsula belong to Meadow Lane Preserves. A program which protects what's left of the sandy beach and marshland in the area.
Keep an eye out for the community helicopter pad and be sure watch for the ample wildlife surrounding Meadow Lane Boardwalk.
Yes, the juxtapositions here are extreme, which is what makes Meadow Lane so worth checking out.
Tip: Meadow Lane is popular for bike rides, but I'd hit the road early to avoid vehicle traffic, the road is narrow and there is no bike lane.
Shinnecock East County Park
Shinnecock East County Park is a rugged, undeveloped barrier beach covered in dunes growing American beach grass.
It's a favorite spot for fishing, beach camping, and quiet solitude.
Located at the end of Meadow Lane, this is a great place to relax and enjoy nature's many offerings.
Tip: You may also like Conscience Point National Wildlife Refuge in North Sea.
The Milk Pail Fresh Market & Milk Pail U-Pick Farm
For farm fresh produce — plus really delicious cider and doughnuts — be sure to stop by The Milk Pail Fresh Market!
The marketplace is located right off Montauk Highway and owned by the Halsey family. It's been serving up produce and treats from local suppliers and their own Halsey Farm & Nursery for years.
Fun Fact: The Halsey family has been farming in Water Mill for 13 generations, making them a familiar name among locals and regular visitors.
Located about two miles from the Milk Pail Fresh Market, is their u-pick farm, aptly named Milk Pail U-Pick Farm.
Here they offer apples and pumpkins for picking, from roughly Labor Day Weekend through end of October.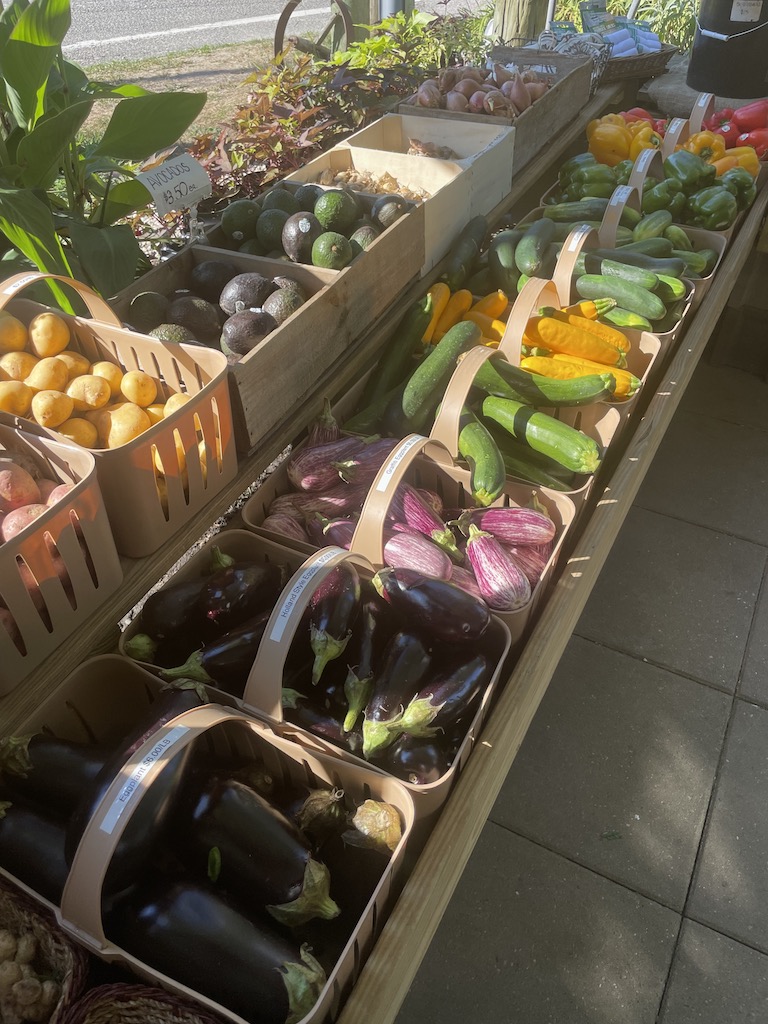 Golf
Public courses in the Town of Southampton are difficult to come by, but there are two options for those who can't snag a guest pass at a private club.
Sag Harbor Golf Course and Poxabogue Golf Course both offer opportunities to hit the links, but neither are what you call world class facilities.
Poxabogue is a nine hole, but the clubhouse restaurant is the real gem, it's where you'll find one of the most unexpectedly excellent brunches in the Hamptons.
Southampton Golf Range
The Southampton Golf Range is a fantastic getaway for any family in the Hamptons.
They've partnered with Top Golf to upgrade their driving range experience and offer one of the more fun putt-putt courses in the area.
In winter months they build an ice skating rink over the range, providing year-round entertainment for locals and visitors.
Shinnecock Windmill
Built in 1713 and in operation for over 100 years, the Stony Brook Windmill (also called Shinnecock Windmill) is a must-see for history buffs visiting Southampton.
The windmill was originally located on Windmill Lane in the Village of Southampton but changed hands many times over the years
It once even served as a playhouse for the daughter of millionaire Arthur B. Claflin in the late 1800's.
Today it calls the Stony Brook Southampton campus home and is open and free to all visitors.
Did You Know? Windmills were once used to mill grain from local farmers, an important amenity for those living in the region.
Work Out
If you crave a sweat sesh before hitting the beach, you're in good company.
There are tons of places to get your workout on in Southampton.
Some mainstays are Barry's Southampton, New York Pilates, Hamptons Hot Yoga, SLT Southampton, and Hill Street Boxing… among many others.
Be sure to keep an eye out for summer pop ups as well.
Southampton, NY Festivals & Events
There's no doubt, Southampton likes to have a good time. Throughout the warmer months you'll find a number of festivals in the village.
There's never a shortage of must-see events, some of the most popular of which are:
Southampton Art Show
SummerFest
Hamptons Fine Art Fair
Polo Hamptons (Bridgehampton)
SeptemberFest
Hamptons Spring Festival (East Hampton)
Hampton Classic Horse Show (Bridgehampton)
Keep an eye on Village of Southampton's website for upcoming events.
Duck Walk Vineyard
Wine tasting is a favorite pastime among Hamptons goers.
The east end of Long Island has provided fertile farmland for lifetimes past, well beyond the arrival of Europeans in the 1600's.
It's no surprise grapes are among the many which harvest well here.
Duck Walk Vineyard, located just outside the Village of Southampton in Water Mill, is known for Sauvignon Blanc and its gorgeous grounds.
Live music is standard on weekends, making this one of the favorite places to be on a weekend afternoon in summer! Be sure to reserve your spot in advance.
Check out my guide, Best Wineries In The Hamptons, for everything you need to know!
Tate's Bake Shop
The Hamptons' most famous bakery is a must-visit during your time on the South Fork of Long Island.
The 20+ year old bake shop is much-loved for its thin, crispy chocolate chip cookies but you'll find tons of additional options at their bake shop.
They even have vegan and gluten free goodies for the dietary restriction crew.
Tennis
Is there a more treasured pastime in the Hamptons, outside of beach-going, than tennis?
Okay, maybe social events, but tennis can double as a social event, so I'll keep with it.
Tennis is one of the most popular activities in the Hamptons. It has been so since Tiffany & Co.'s Harry Platt, and other high profile society members, were rubbing elbows at The Southampton Bath & Tennis Club.
If you wish to hit the tennis courts today, and don't belong to the aforementioned private club, head on over to Triangle Tennis Club, Shinnecock Tennis Club, or Sandy Hollow Tennis Club.
Pollock-Krasner House
Okay, this one is a bit of a drive from Southampton, but it's a must for art-lovers!
As the name suggests, this was the home of artists Jackson Pollock and Lee Krasner, who painted many of their now world-famous works on these grounds.
Situated in one of the more remote areas of the Hamptons, Springs, you'll quickly realize why this peaceful enclave was a favored workplace of both artists.
The historic house, dubbed a National Historic Landmark, is now a study center and museum.
A tour not only grants access to their home but also their art studio, which has been carefully preserved and is covered still in the splattered paint which made Pollock so famous.
Day Trips From Southampton, NY
If visiting Southampton for more than a weekend, I highly recommend exploring some of the nearby towns!
Below are a few towns located just a few miles away.
While they may be close by, milage-wise, traffic can be very heavy during summer weekends, so plan for a little extra time.
East Hampton – Known for designer shops and big homes, plus an abundance of art galleries and museums.
Sag Harbor – Beloved for their quaint Main Street, well preserved architecture, whaling history, and harbor full of mega yachts. Read more at Sag Harbor Day Trip Itinerary.
Montauk – The most California-esque beach town in the Hamptons, it's got a serious surfer vibe and the oldest lighthouse in New York, Montauk Point Lighthouse. Read more at Montauk Day Trip: Everything To Know.
Shelter Island – The most secluded spot around, getting here requires a ferry. Upon arrival you'll find yourself engulfed in solitude and the simple pleasures of nature.
North Fork – The South Fork's sister to the north proudly dubbed itself the "un-Hamptons" but you'll find many similarities there, just without all the mansions and hoopla. Vineyard-hopping and exploring cute towns, such as Greenport and Southold, are popular pastimes on the North Fork.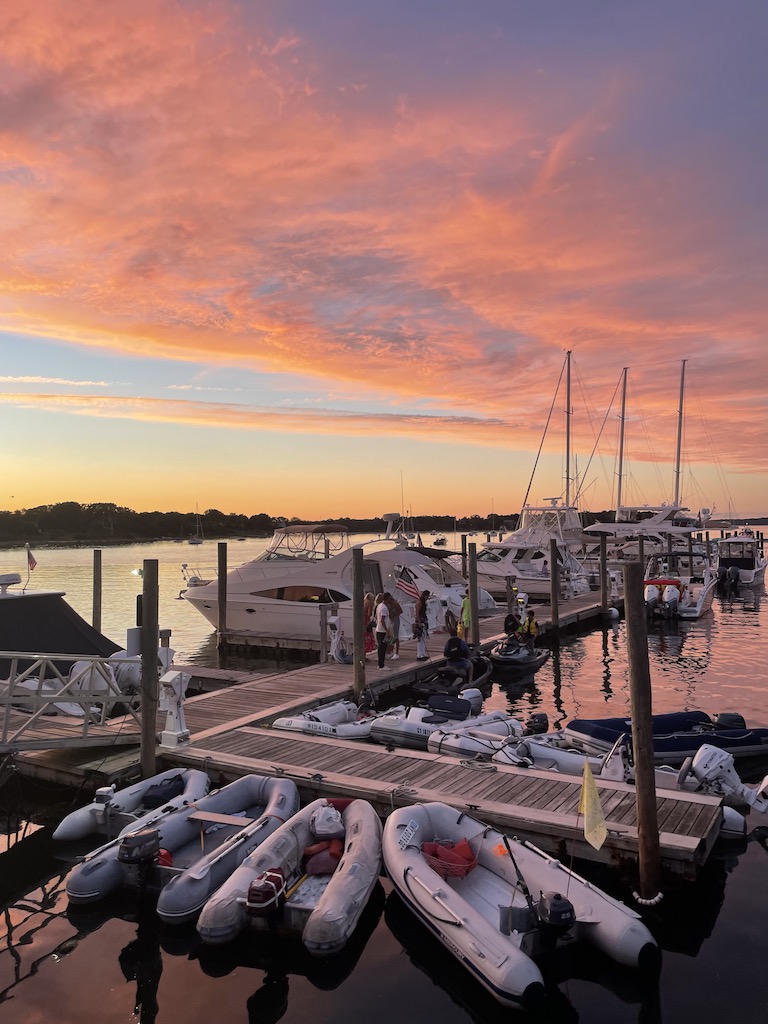 Southampton, NY Restaurants
Southampton has numerous independent restaurants and NYC staples throughout the village and surrounding area.
With a variety of fine dining and casual options, as well as cuisines ranging from Italian to Indian, and of course, seafood, it's easy to find something everyone can enjoy here.
There are lots of dining options in Southampton, just a few of the favorites are:
Shippy's Pumpernickels (German)
75 Main (American)
Southampton Publick House (American)
Paul's Italian American Restaurant (Italian)
La Parmigiana (Italian)
Dopo Argento (Mediterranean)
Union Sushi & Steak (Sushi / Steak)
T Bar Southampton (Steak)
Saaz Indian Restaurant (Indian)
Le Charlot (French)
Bistro Eté (French)
Manna at Lobster Inn (Seafood)
Lobster Roll Southampton (Seafood)
The Plaza Café (Seafood)
Bamboo (Asian fusion)
Looking for restaurants on the water in Southampton? Consider Manna at Lobster Inn on the northern side of Southampton.
Unfortunately, there aren't many others in Southampton. You're best off heading to Hampton Bays, Sag Harbor, or Montauk for more waterfront options.
Where To Stay In Southampton, New York
You'll find there are no big box chain hotels in the Hamptons, most are of the boutique or bed & breakfast variety.
For this reason, hotel options can be limited. It's best to book accommodations well in advance.
Some popular Southampton hotels include:
In addition to these options, there's also Airbnb/ VRBO rentals available.
You May Also Like: Where To Stay In The Hamptons
Getting Here
By Car
The Hamptons are located at the tip of Long Island's South Fork, a straight shot from New York City.
The drive normally takes about 2+ hours (about 100 miles). Fortunately, Southampton is on the western edge of the Hamptons and a little quicker to get to.
By Bus
One of the most convenient ways to get across Long Island is via the Hampton Jitney.
These are luxury buses with cozy seats, wifi, restrooms, even an attendant.
Tip: For even more space check out their luxe option, the Hampton Ambassador.
By Train
The Long Island Railroad (LIRR) combines convenience and affordability.
The route takes 3 hours so this is especially a great option during summer months when the roadways are jammed with cars.
The train continues from Penn Station to Montauk with a transfer at Jamaica Station or there's an express option with less stops.
Stops in the Hamptons, in order from west to east, include: Speonk, Westhampton, Hampton Bays, Southampton, Bridgehampton, East Hampton, Amagansett, and Montauk.
By Air
For the quickest (and least affordable) option BLADE offers helicopter service into East Hampton.
Think Uber gone helicopter, it may be pricey but it'll get you to the East End in a fraction of the time.
For more information head on over to How To Get To The Hamptons.
Getting Around
If planning to stay in the village of Southampton, it's easy to get around by foot and utilize ride share or bike rentals when needed.
If you aren't able to stay right in the village, or plan to explore nearby towns, a car will be necessary.
Southampton Weather
Summer is peak season throughout the Hamptons thanks to fantastic, sunny weather — perfect for long days spent at the beach!
Spring and fall are mild and great for sightseeing, but not quite warm enough for sunbathing.
Spring is usually very rainy, fall is drier but has the potential for a big storm or two, it's hurricane season after all.
Winter is quite cold, snow is possible but usually light. This is, however, a great time to visit the Hamptons if you seek quiet and solitude.
Average Temperatures In Southampton, NY:
January – 39° / 23° (average high/ low F°)
February – 40° / 24°
March – 47° / 30°
April – 56° / 39°
May – 66° / 48°
June – 75° / 58°
July – 81° / 64°
August – 80° / 63°
September – 73° / 56°
October – 63° / 45°
November – 53° / 37°
December – 44° / 29
As you can see, there's tons of great things to do in Southampton, NY. I hope you've found this post helpful in planning your vacation.
Any additional tips or questions? Please leave a comment below.
If you wish to follow along with my travels in real time check out @seen.by.amy on Instagram!
Looking for more ideas? Head on over to my Hamptons and New York guides below.
More Information For Your Hamptons Vacation:
More Information For Your Trip To New York:
You May Also Like:
Amy is a full-time travel blogger who's lived in Denver, Chicago, New York, Utah, & Arizona. She enjoys writing about places she's lived and the many incredible destinations she's visited worldwide. Amy loves to plan trips and finds passion in helping others to plan their getaways, whether a once in a lifetime vacation or a quick weekend away.