Last updated on October 31st, 2023 at 10:29 am
Seen By Amy contains affiliate links including those as an Amazon Affiliate. If you make a purchase through these links, I will earn a commission at no extra cost to you. Thanks for your support!
Newport is a very popular East Coast destination and one of Rhode Island's most beloved cities.
It offers a huge range of activities for anyone's taste. From the Tennis Hall of Fame, sailing tours, endless shopping, and incredible food, you're sure to find something you enjoy in Newport.
Visiting Newport and not sure where best to spend your time? Read on for the top things to do in Newport, Rhode Island!
For my full weekend itinerary be sure to check out this Newport, Rhode Island Itinerary.
The Best Things To Do In Newport, Rhode Island
Walk Bowen's Wharf
Lively docks line Newport's ample waterfront — the most famous of which is Bowen's Wharf. This popular tourist attraction sits on Newport Harbor and is teeming with shops, outdoor bars and restaurants with live music, and boats ready to take excited tourists out on the water.
The energy here is unmatched and one of the most fun things to do in Newport, RI.
Walk Thames Street
Thames Street is the main hub running through town. It's lined with restaurants, boutique shops, and unassuming bars which carry on for blocks on end.
While in Newport plan to walk Thames Street at least once. Leave plenty of time to explore side streets and the quiet marinas surrounding this popular thoroughfare.
Thames is located right next to Bowen's Wharf so it's easy to explore these popular areas together in one afternoon.
Tip: I do not recommend driving on Thames Street, this narrow roadway sees a lot of traffic. We found parking a few blocks away and walked.
Sunset Sailing Tour
Set sail in the sailing capital of the world! One of the best ways to see Newport is from the calm waters surrounding the island.
A 2 hour sail provides excellent views of waterfront mansions, Fort Adams State Park — a 19th century military post — Newport Bridge, and old lighthouses. All from the calm waters of the Narragansett Bay.
Cozy up with a blanket and cocktail while enjoying the magic of sailing.
There are tons of tour companies offering sunset cruises out of Bowen's Wharf. We chose to tour with Sailing Excursions, Inc Schooner Adirondack II and were very happy.
White Horse Tavern
Just north of Bowen's Wharf is White Horse Tavern, a National Historic Landmark dating back to 1673.
It's acknowledged as the 10th oldest operating restaurant in the world and the oldest in the United States. White Horse Tavern is quintessential old style Newport and a perfect place to grab a drink while visiting.
Visit The Audrain Auto Museum
In a historic building centered in Newport, this auto museum seeks to preserve, celebrate, and share automobile history with the community.
Here you'll find a wonderful collection of motorcars from the past, often celebrating the industry's great achievements of previous generations.
For those who love classic cars, this museum is an absolute must while visiting Newport, RI.
The museum is open daily from 10 am to 4 pm.
Tour Breakers Mansion
While visiting Newport, you must see Rhode Island's number one tourist attraction, the Breakers Mansion. This summer cottage was built by Cornelius Vanderbilt in the late 1800's and is eye-popping in its grandeur. It's built right on the ocean, with no detail left to spare.
This is one of the most popular things to do in Newport and for good reason. The intricacies of the mansion are indescribable.
A Few Things To Know About Touring The Historic Breakers Mansion
Mansion tours are self guided. Upon arrival you'll download an app, this provides an audio tour as you walk through the home.
The internet service within the mansion is very poor, so download the app and your tour audio prior to entering.
You'll need headphones to listen to the tour. If you don't have headphones, they provide pamphlets outlining the details of each room throughout your visit.
There's free parking on site for ticket holders.
Be sure to use the restrooms before entering the home, there are no public restrooms through the tour.
Newport Mansions
Newport, RI was a summer hot spot for the United States' wealthiest during the late 1800's, including the Vanderbilts, the Oelrichs, and the Berwinds family… just to name a few. The splendor of the lavish Gilded Age is still evident here today thanks to the well preserved historic mansions which line Bellevue Avenue.
Each mansion has its own story to tell, and the finishes are more grand than you could begin to imagine.
If you can't get enough of The Breakers, be sure to tour other popular mansions along Bellevue Avenue such as:
Marble House
Rosecliff
Hunter House
Rough Point
Issac Bell House
The Elms
Gilded Age Mansions
Note: Many of the areas mansions are ran by The Preservation Society of Newport County. This organization offers individual tickets to each mansion, or bundles if you wish to tour more than one.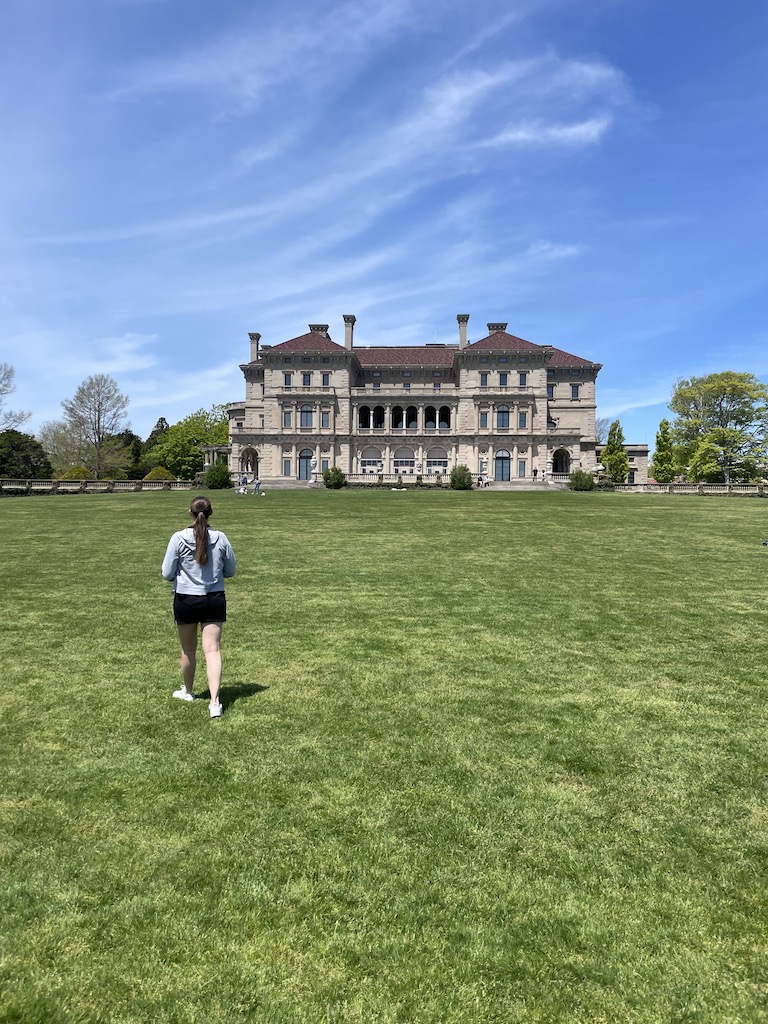 Newport Trolley Tours
There are a number of trolley tours available which take you along Ocean Drive and Bellevue Avenue. The guides will point out famous summer cottages (ahem, mansions) while sharing facts and history regarding the homes.
Most tours include a guided trolley tour plus admission to one mansion. You can book a tour through Viking Tours which allows you to choose from admission to The Breakers, Marble House, or Rosecliff.
Sachuest Point National Wildlife Refuge
Satuest Point is a must-do for outdoor lovers. This is one of the most highly regarded bird watching sanctuaries on the Eastern seashore. Sachuest Point is home to the second largest flock of wintering Harequin ducks on the Atlantic Coast and is a vital stopover point for many wintering birds.
The refuge has over 40 acres, 3 miles of hiking trails, and fantastic saltwater fishing as well.
This is a great way to get outside and enjoy the quiet outdoors while visiting Newport.
Tip: Be sure to also check out Norman Bird Sanctuary in Middletown.
Go For A Walk Along The Newport Cliff Walk
The cliff walk is a 3.5 mile trail along the rugged Rhode Island coastline. Since it runs parallel to famed, mansion-lined Bellevue Avenue it offers excellent views of both the coastline to the east and historic mansions to the west.
This free attraction is one of the best things to do while visiting Newport thanks to its beautiful views.
The trail is 3.5 miles in each direction but it's possible to arrange a ride at the end of the trail or take a trolley back into town if you'd rather not walk 7 miles.
Important Note: The trail is very rugged and runs close to the rocky shores in some sections. This walk is not for those with mobility issues.
Tips For Hiking The Cliff Walk:
Wear proper footwear, some sections are very rocky and can be wet.
Pack sun protection – hat, sunscreen, sunglasses, etc.
Bring water and snacks.
It takes most about 2 hours to walk one direction, keep in mind you'll be stopping for lots of photos.
There are exit points along the trail. More-so on the north end, the south end has very few exit points.
The northern half of the walk is paved and easier to walk, the southern half gets very rugged. Consequently you'll find more people on the north end than the south.
Go Golfing
Newport has a storied golf history, namely surrounding the Newport Country Club. This club famously held both the first US Amateur Championships and the first US Open in the 1890s, and more recently, the 2006 US Women's Open.
Newport is also the home to Jamestown Golf Course, which remains the oldest 9 hole golf course in the United States.
If you love golf, a tee time is a must in Newport!
Rhode Island Red Food Tours
Foodie? You're in luck, Newport has some incredible dining options.
Join a Rhode Island Red Food Tour and eat where the locals do. Check out favorites tucked away from the city's main drag, and learn about Newport's architecture and history as you go.
You can book this highly popular foodie tour here: Rhode Island Red Food Tour.
The tour cost includes food, so you're getting a large meal and a walk tour all in one!
Ocean Drive
If you want to see the historic mansions, but would rather not walk (or if you have time to do both, as we did) I highly recommend spending an afternoon cruising Ocean Drive.
The famous roadway wanders through a picturesque neighborhood overlooking the surrounding ocean. We really enjoyed driving aimlessly through the area while imagining what life must've been like here over 100 years ago. We spent about 30 – 40 minutes driving through the area following our mansion tour and cliff walk.
Brenton Point State Park
Brenton Point State Park is one of the best things to do in Newport for outdoor lovers. The park offers wide vistas over the Atlantic Ocean, plus plenty of hiking trails and rugged coastline for the public's enjoyment. The park is located at the island's southern tip, near the famed Ocean Drive homes. It's definitely worth a stop while touring the area.
This free park is open 24 hours a day, every day, and is very popular for kite flying.
State Parks Near Newport
If you're a fan of state parks, be sure to check out the following parks in and near Newport:
Fort Adams State Park
Fort Wetherill State Park
Beavertail State Park
Be sure to tour the Beavertail Lighthouse Museum if visiting Beavertail State Park.
Sunset Drinks At Castle Hill
Located just off Ocean Drive, near Brenton Point State Park, is the highly popular Castle Hill Inn. Their famous restaurant, The Lawn at Castle Hill Inn, is a great place enjoy drinks (and a sunset!) over the Narragansett Bay.
Cozy up on the grassy hill or an Adirondack chair while enjoy cocktails and light fare. Be sure to grab a reservation beforehand, Castle Hill Inn is a popular spot for locals and visitors alike.
Tip: While here take a short walk to the Castle Hill Lighthouse.
Spend A Day At The Beach
The Ocean State boasts some of the most desirable beaches in the country, and Newport is no different. Spend a day lounging out on the beautiful sand surrounded by incredible scenery. What more could you ask for in a summer trip to Newport?
Tip: Cool off with Del's Frozen Lemonade during your beach day.
Beaches In Newport, RI
Second Beach (my favorite)
Third Beach
Easton's Beach (also referred to as First Beach)
Each beach has a large parking lot, however even with plenty of spaces, spots do fill quickly. Be sure to arrive no later than 10 am to avoid parking hassles and snag a good spot!
International Tennis Hall Of Fame
The International Tennis Hall of Fame is one of the top things to do in Newport for those who enjoy the sport.
The museum has excellent exhibits honoring more than 250 inductees, historic grass courts (open to the public to play!), and a gorgeous historic theater dating back to 1882. Located right in downtown, this is a fantastic stop for spectators and those who love to the sport.
Did You Know? The museum was formerly a local casino with a deep tennis history. In the 50's it was in danger of being demolished, but was successfully sanctioned by Jimmy Van Alen in 1954.
The museum is open daily from 10 am – 5 pm.
Sip Local Wine At Newport Vineyard
Enjoy some local wine from Newport Vineyard during your visit. This 60 acre vineyard in nearby Middleton, RI — just 15 minutes from Newport — is in a beautiful setting and the wine is certain to not disappoint.
It also has an excellent eatery and a local brewery on site, making this an excellent option if some people in your group aren't as keen on wine.
Reservations are recommended in advance especially during summer months.
You may also like Greenvale Vineyards, another one of the area's local wineries.
Enjoy One Of Newport's Many Festivals
Festival opportunities in Newport are endless. Just about any weekend, especially in summer, will offer an event where you're likely to find local food, good music, and flowing cocktails.
Below are some of Newport's most popular festivals throughout the year:
Newport Jazz Festival
Newport Folk Festival
Bowen's Wharf Seafood Festival
Newport Kite Festival
Newport Oyster & Chowder Festival
Newport International Boat Show
Touro Synagogue National Historic Site
The Touro Synagogue is the oldest synagogue in the United States, opening its doors in 1763. Tours at this National Historic Site include information regarding the synagogue's history, interactive exhibits, and access to their beautiful grounds.
Guided tours times vary throughout the year. Be sure to check the Touro Synagogue website before visiting.
Visit The Newport Art Museum
Newport Art Museum's collections celebrate Rhode Island's rich cultural heritage and dynamic contemporary art scene. Here you'll find intriguing art from many different styles and eras, and from cultures both near and far.
The museum's exhibits are housed in two beautiful and historically significant Newport buildings, which are alone worth seeing.
Museum hours vary throughout the week, and they are closed on Mondays. I recommend checking during your trip as the hours do change fairly regularly.
You may also like the Naval War College Museum or Museum Of Newport Historic.
As you can see, there are so many things to do in Newport, Rhode Island! Any questions or additional tips? Please leave a comment below!
If you'd like to follow my travels in real time be sure to follow @seen.by.amy on Instagram.
Looking for more ideas? Check out my additional Rhode Island guides below or head on over to Discover Newport.
More Ideas For Your Rhode Island Travels:
More Information For Your East Coast Travels:
Amy is a full-time travel blogger who's lived in Denver, Chicago, New York, Utah, & Arizona. She enjoys writing about places she's lived and the many incredible destinations she's visited worldwide. Amy loves to plan trips and finds passion in helping others to plan their getaways, whether a once in a lifetime vacation or a quick weekend away.