Last updated on October 31st, 2023 at 09:55 am
Seen By Amy contains affiliate links including those as an Amazon Affiliate. If you make a purchase through these links, I will earn a commission at no extra cost to you. Thanks for your support!
Vail is a resort town most famous for skiing, but it also attracts many visitors in the warmer months thanks to an abundance of summer activities.
Whether you're hitting the trails, recharging at the spa, or simply taking in the stunning Rocky Mountain views, you'll love summer here!
I've lived in the Denver area most of my life and have been fortunate enough to visit this mountain town in both the summer and winter, I've got to say, I love summer in Vail.
Visiting Vail this summer and wondering how best to spend your time? Read on for the best things to do in Vail, Colorado during the summer!
The Best Things To Do In Vail, Colorado In Summer
Vail Village & Lionshead Village
Vail Village and Lionshead are the two main areas for restaurants, shops, and nightlife. Here you'll find picture-perfect cobblestone pedestrian streets and Bavarian-style architecture.
Whether or not you plan to dine and shop, this area is definitely worth walking around.
This type of architecture is unique in the United States, especially compared to other Colorado mountain towns. Most Colorado mountain towns originated as mining hubs and, even today, have aesthetics which reflect that era.
Vail was developed in the 1960's, after the area was used as a training site for the Army's 10th Mountain Division. The mountains surrounding Vail reminded World War II veteran, Pete Siebert, of the Alps and thus a European-inspired ski town was born.
Vail Village Vs. Lionshead Village
Vail Village is a bit larger, and therefore offers more variety in terms of dining and entertainment. Lionshead is smaller but will wow you with colorful buildings and stunning architecture.
Vail Village and Lionshead are separated by less than a mile, making it easy to navigate between the two. You can take a free shuttle, or enjoy a nice 20 minute walk along Gore Creek, where there's a creekside pathway connecting the two villages.
Shopping
If you enjoy shopping you'll love it here! Both Lionshead and Vail Village have a variety of shops, mostly on the high-end side.
Whether you're seeking boutique outfitters, outdoor gear, art galleries, or home decor — you'll find some great options here.
Candy/Sweet Shops
Looking for a sweet treat while exploring the villages? There are tons to choose from, some favorites are:
Rimini Gelato & Chocolate
Fuzziwig's Candy Factory
Joe's Famous Deli (they have housemade ice cream and baked goods!)
Rocky Mountain Chocolate Factory
Gorsuch Ski Café
Betty Ford Alpine Gardens
The Betty Ford Alpine Gardens are dedicated to the conservation of high mountain plants and habitat.
At 8,200 feet above sea level, this is one of the most beautiful and distinguished high altitude botanical gardens in the world. The numerous gardens contain about 2,000 varieties of plants, including over 500 varieties of wildflowers and alpine plants.
Fun Fact: The gardens were named after former First Lady Betty Ford, the Ford's were regular visitors to Vail and had a home in nearby Beaver Creek.
You don't want to miss out on this unique site during your summer trip to Vail!
The gardens are open dawn to dusk and free to all visitors.
Vail Nature Center
Located just across the creek from the Alpine Gardens is the Vail Nature Center.
Formerly a homestead in the 1940's, this is now a nature center with numerous free programs for the public. Programs include hiking, birding, and beaver pond tours, as well as stargazing and wildflower viewing, just to name a few!
All programs are free for residents and visitors, no matter your age.
Hiking In Vail
Hiking is one of the most popular things to do in Vail, Colorado in the summer, and fortunately there's tons of it.
Thanks to the area's alpine lakes, aspen groves, and dense pine forests, you'll have no problem finding a lovely hiking trail fit for any skill level.
Booth Falls is one of Vail's most popular hikes and definitely worth a visit on your trip. The 4.2 mile trail is challenging but will reward your efforts with a beautiful view. The hike is especially popular due to its close proximity to town, take the free shuttle to the trailhead to avoid dealing with parking issues at the trailhead.
Best Hikes In Vail:
Pitkin Lake
Berry Picker Trail
East Vail Waterfall
Upper Piney River Falls
Tip: Plan for outdoor activities, such as hiking, in the morning. Afternoon thunderstorms are common in summer and can be very dangerous at high elevations.
Walk Or Bike Gore Creek
Gore Valley Trail runs for miles through Vail, with the most popular section being a paved trail connecting East Vail to Vail Village, Lionshead, and Cascade Village.
The path follows the river and offers beautiful, relaxing scenery just steps from the village.
The trail is primarily used by bikers, runners, and those going for a walk — it's an excellent way to start your summer morning in Vail!
Tip: If you're planning to bike, hit the trail early. It gets quite busy with pedestrians during the afternoon.
There is a Vail segway tour that takes you around the area for some sightseeing, if that's more your style. You can book the segway tour here: Vail Segway Tour.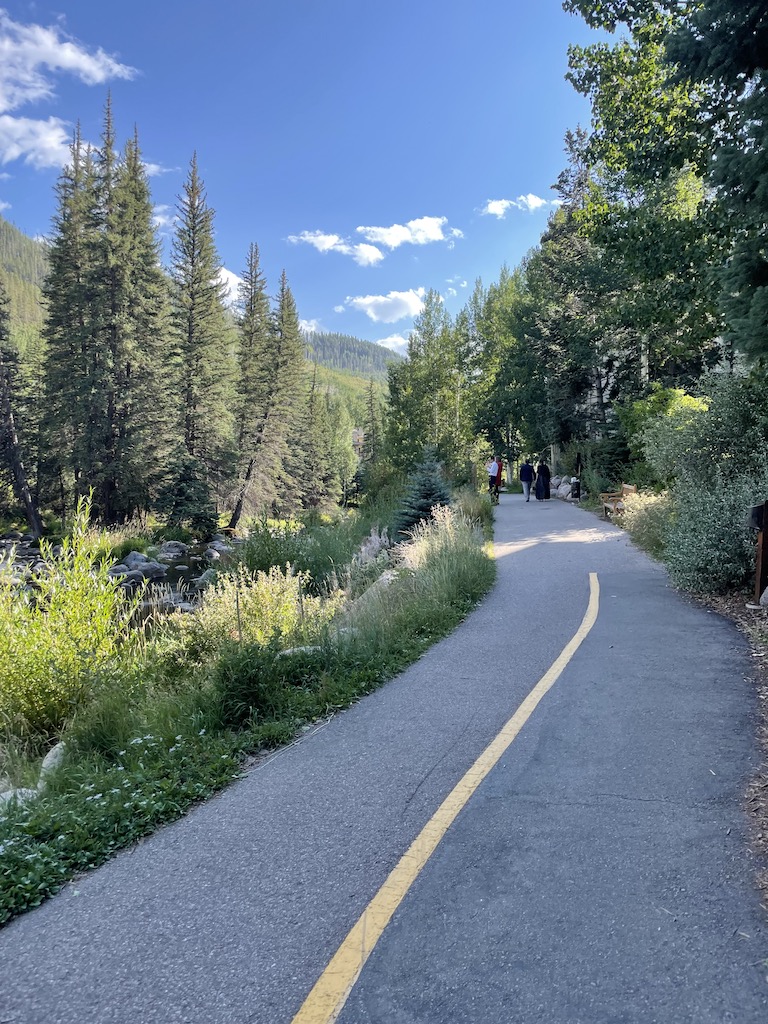 Attend A Festival Or Event In Vail
There's no shortage of exciting festivals in Vail come summer! Below are a few of the town's most popular summer events:
Block Party Eagle
GoPro Mountain Games
Vail Craft Beer Classic
Vail Dance Festival
Vail Jazz Festival
Amp Summer Concert Series
Keep an eye on Discover Vail for an up-to-date list of festivals and events in the area.
Interested in Western dance lessons? Check out 4 Eagle Ranch's Country Dance events on the first Thursday of each month.
You May Also Like: Vail Craft Beer Classic: Everything You Need To Know
Summer Concert Series
Moe's Original BBQ hosts free concerts every Tuesday at Gerald R. Ford Amphitheater in the heart of Vail Village. Bring blanket, picnic and beverages and enjoy local bands as the sun sets — don't forget a jacket!
No doubt, this is a favorite thing to do in Vail during summer!
Check out Hot Summer Nights for this summer's live music lineup.
Golf
Golf is one of the most popular things to do in Vail, Colorado in the summer. Vail Golf Club is the best option near town. It's an 18-hole, par 71 championship course with incredible mountain views.
There are a number of public courses outside town including Eagle-Vail Golf Club, Beaver Creek Golf Club, and Red Sky Ranch & Golf Club, to name a few.
Arnold Palmer's Eagle Ranch Golf Club is arguably the best affordable golf course in the entire state of Colorado. Additionally, the aforementioned Red Sky Ranch & Golf Club is home to what most would consider two of the five most spectacular mountain courses in the area.
Guided Excursions
There are a number of great guided activities available during the summer months! Everything from mountain biking, ATV tours, horseback riding, rock climbing, even llama trekking!
This is a great way to get out of your comfort zone and experience something new with the support of professional guides.
Paragon Guides, Sage Outdoor Adventures, and Vail Stables are a few companies offering popular excursions for your summer in Vail.
Spa Day In Vail
With Vail's ample outdoor activities you'll be craving some rest and relaxation during your visit.
Luckily, there's plenty of excellent spas in the area. Spend a relaxing afternoon (or full day) pampering yourself with massages, full body wraps, facials, or sauna time.
There are many great spas to choose from here, among the most popular in Vail are:
Rock Resorts Spa at the Arrabelle
The Sonnenalp Spa
Bloom Spa at The Sebastian
Hot Springs Near Vail
If you prefer recharging in nature, consider a day trip to Glenwood Springs. Just an hour from Vail, the town has a variety of springs to choose from including Iron Mountain Hot Springs and Glenwood Hot Springs Pool.
Tip: Also check out Mount Princeton Hot Springs near Buena Vista.
It's a little bit of a trek, but this is definitely one of my favorite things to do in the area no matter the time of year!
Epic Discovery Vail
At the top of Vail Mountain is Epic Discovery ran by Vail Ski Resort. You'll find all sorts of summer fun and activities here.
Choose from the Forest Flyer Mountain Coaster, tubing hills, zipline, bungee trampolines, mini golf, and climbing wall, or simply access Vail Mountain's huge variety of hiking trails. This is a great destination for the whole family to enjoy.
Tip: Check out Game Creek Aerial Adventure for more ziplining and adventure courses.
Gondola Rides
Enjoy breathtaking views from the gondola as you're whisked up 10,000 feet above sea level to the top of the mountain. Both Eagle Bahn and Gondola One run in the summer months, Eagle Bahn from Lionshead and Gondola One from Vail Village.
Following the scenic ride enjoy restaurants, biking and hiking trails, popular events, such as Yoga on the Mountain, or previously mentioned Epic Discovery Vail.
Tip: Eagle Bahn gondola is especially amazing at sunset.
Piney River Ranch
Nestled up to the Gore Mountain Range you'll find Piney River Ranch, surrounded by thousands of acres of protected wilderness and situated at nearly 10,000 feet of elevation.
The ranch offers a variety of summer mountain activities including hiking, biking, paddle boarding, canoeing, and so much more. Oh, and don't forget the on-site restaurant which offers pretty phenomenal BBQ.
Note: The drive up here is on a bumpy, dirt road, make sure you have an appropriate car.
Haven't booked your Vail accommodations yet? Piney River Ranch has glamping and cabin sites available for rental.
Public Art Pieces In Vail
The town of Vail has an impressive public art collection with over 55 works ranging from painting, sculptures, murals, even special-made playground components.
Check out the walkable art map of Vail Village and Lionshead. This is a great resource for uncovering Vail's abundant public art: Vail Public Art Walking Map.
You may also like the Wednesday Art Walks held each week during summer.
White Water Rafting
Spend a day coursing white water rapids on a rafting tour near Vail. There are a number of rivers in the area with varying degrees of difficulty.
With an experienced guide you'll paddle through Class II, III, or IV rapids, taking in the beautiful mountain surroundings as you go. This summer adventure is one you won't be quick to forget!
Sage Outdoor Adventures is one of the closest rafting companies to Vail (they also offers ATV and horseback riding trips!)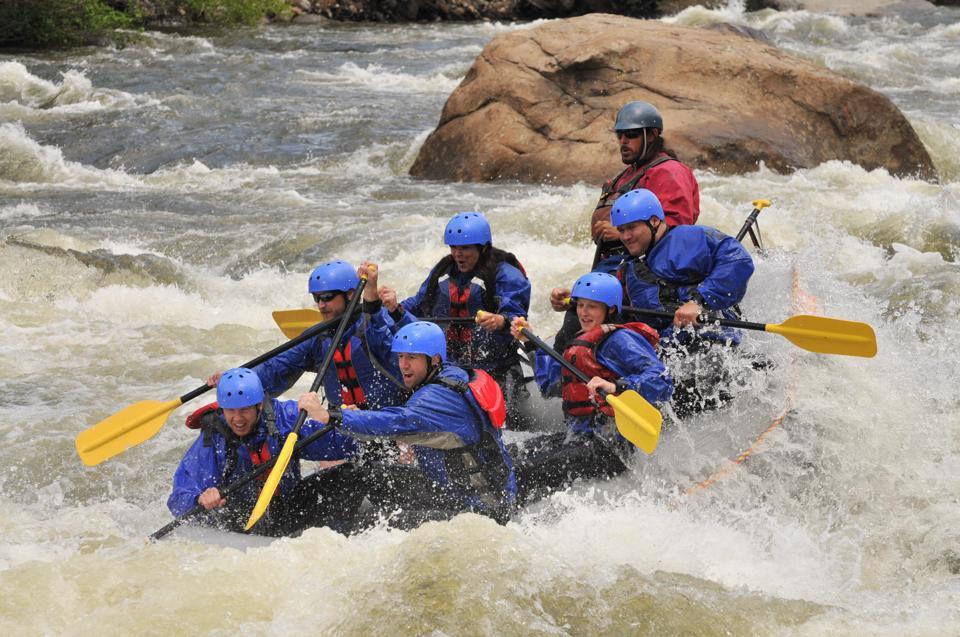 Colorado Snowsports Museum & Hall of Fame
Colorado Snowsports Museum & Hall of Fame, formerly the Colorado Ski & Snowboard Museum, is an ode to the history of various snow sports throughout time.
The museum has all sorts of interesting exhibits. Learn about ski fashion, the 10th Mountain Division who famously trained in the Colorado Rockies during WWII, and the history of Colorado ski towns.
The museum is open year-round and offers free admission for all.
Biking In Vail
Vail Valley has some incredible trails of both the mountain biking and road cycling variety.
Popular Mountain Biking Trails:
Vail Mountain has tons of non-paved trails good for varying skill levels. You can either bike up the mountain or use one of the gondola's Bike Hauls to get you and your gear up the mountain. Check out their trail map here: Vail Resorts Biking Trail Map. Remember green is beginner, blue is intermediate, and black is for experts.
For more mountain biking options check out North Trail, Son of Middle Creek, and the Eagles Nest Wilderness Area Trails.
Popular Paved Biking Trails In Vail:
Gore Valley Trail
Bald Mountain Recreation Path
Vail Pass Trail
Eagle Valley Trail
North Recreation Path
For rentals check out Venture Sports, they offer door-to-door delivery and pick up of road and mountain bikes.
If you're more comfortable with a guide, Bike Valet offers a variety of tour options.
Vail Brewing Company
This no-fuss, local craft brewery stays true to Vail and simply brews what they like. Locally owned and only using ingredients from the region, you'll find a lot to love about the simple atmosphere this place provides. No doubt, this is a great spot to unwind after an exciting day of outdoor activities.
Not into beer? Consider a wine tasting at Root & Flower or sample a flight at 10th Mountain Whiskey & Spirits Company instead.
Vail Farmers Market & Art Show
Be sure to stop by the Vail Famers Market on Sunday's during summer and fall.
The outdoor market has over 100 vendors offering savory and sweet treats, home decor, crafts, and much more. Keep an eye on their live music and entertainment schedule!
Fly Fishing
Always wanted to try fly fishing but not sure where to start? Join Eagle River Outfitter for a day on the water. They supply all necessary gear and their guides will help you through the entire process, from cast to net!
The Eagle River is the primary destination for fly fishing in Vail. The river flows just outside of town and is known for its excellent trout population, including rainbow trout, brown trout, and cutthroat trout.
Free Things To Do In Vail, Colorado In The Summer
Looking for some free things to do during your visit to Vail? Check out the following ideas below:
Hot Summer Nights concert series.
Vail Nature Center tours.
Go hiking.
Visit the Betty Ford Alpine Gardens.
Go for a walk along Gore Creek.
Visit the Colorado Snowsports Museum & Hall of Fame.
Check out free events hosted by the Vail Library (for both kids and adults).
Free lawn sports at Solaris Plaza.
Free Wednesday Art Walks.
Day Trips From Vail
Thanks to Vail's convenient location right off I-70, it's easy to access a number of popular mountain towns in a short time. If you're spending an extended time in Vail, and want to explore the surrounding area, consider these popular nearby towns and cities:
Beaver Creek
Glenwood Springs
Frisco/ Dillon Reservoir/ Silverthorne
Aspen
Breckenridge
Twin Lakes
Copper Mountain
Leadville
Denver
Boulder
Popular Restaurants In Vail
There are tons of great restaurants throughout Vail, some of the most highly rated options are:
La Nonna Ristorante
Matsuhisa
Mountain Standard
Montauk Seafood Grill
Sweet Basil
Tip: Arrange reservations if planning to dine at popular restaurants over the weekend.
Looking for casual eateries? Check out the below options, there's also lots of coffee shops and cafes throughout Vail with small bites and light fare.
Pazzo's Pizzeria
Vendettas
Blue Moose Pizza
Garfinkel's
Los Amigos
What To Wear In Vail In The Summer
Vail may be known as a ritzy destination, and it is, but the fashion choices here lean on the casual side. For the most part, you'll find locals decked out in their Patagonia and outdoor gear, whereas visitors tend to dress up a bit more.
If dining out or enjoying nightlife it's best to clean up a bit, but nothing formal is required. Don't forget a jacket, it gets quite cold after the sun sets.
In regards to weather, plan for large temperature swings. Mid-day can feel quite toasty (usually warmer than the posted high) as the sun is more intense at this altitude. Afternoon thunderstorms are common but very brief, even so, humidity is very low here.
Average Summer Temperatures In Vail:
May (High / Low F°) – 61° / 30°
June – 73° / 36°
July – 77° / 42°
August – 75° / 40°
September – 67° / 33°
Think of May and early-June as spring, it'll be chilly and there's still a chance for snow this time of year. Snow does not melt at higher elevations until late-June or July. This time of year you probably won't see snow in town, but it will affect hiking trails and outdoor excursions.
Below are outfit ideas for your summer trip to Vail, Colorado. All pieces are linked in the caption.
Below are example hiking outfits for summer or a warm fall day in Vail. It may be too warm for a jacket during daytime, but I do carry one just in case, afternoon monsoon storms are common especially at higher elevations.
All pieces are linked in the captions below:
Getting To Vail, Colorado
Denver International Airport – 2 hours to Vail (121 miles)
This is the closest international airport and is serviced by all major airlines.
Eagle County Regional Airport – 30 minutes to Vail (35 miles)
This small, regional airport is serviced by a few major airlines including United, Delta, and American.
From either airport, plan to rent a car or arrange a shuttle in advance.
If flying into Eagle County Regional Airport, you can also arrange a taxi/ride share or look into whether your hotel offers a free shuttle.
Getting Around Vail
If you don't plan to leave Vail, you do not need a car. The town of Vail has an excellent free bus system, it's easy to use, goes many places, and runs frequently.
On top of that, there's taxi/Uber/ Lyft (albeit, limited) and many resorts offer free guest shuttles around Vail.
If, however, you plan to explore the area around Vail — whether for hiking, day trips, etc. — a car would be helpful.
Where To Stay in Vail
Vail Village, Lionshead, and Cascade Village are the main areas to stay. It's extremely easy to navigate between the three villages, so which one to stay in doesn't really matter.
West Vail and East Vail are more residential and relatively further out but still, it's very easy to get into the villages from here utilizing public transit and free shuttles.
Vail Hotels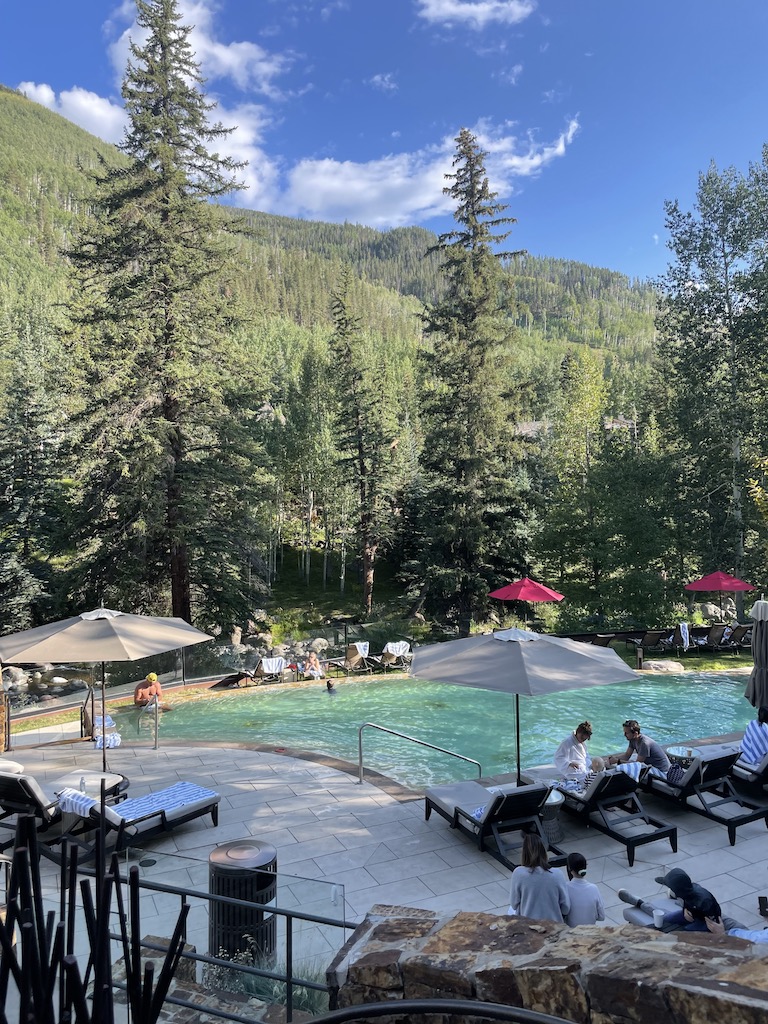 As you can see, there's so many fun things to do in Vail in the summer months, I hope you enjoy your summer vacation here!
Any questions or additional ideas? Please leave a comment below!
If you wish to follow along with my travels in real time check out @seen.by.amy on Instagram!
Looking for more ideas? Check out my additional Vail and Colorado guides below or head on over to Vail Resorts.
More Information For Your Vail, Colorado Vacation:
More Information For Your Colorado Vacation:
Amy is a full-time travel blogger who's lived in Denver, Chicago, New York, Utah, & Arizona. She enjoys writing about places she's lived and the many incredible destinations she's visited worldwide. Amy loves to plan trips and finds passion in helping others to plan their getaways, whether a once in a lifetime vacation or a quick weekend away.